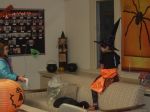 It was bittersweet saying goodbye to our guests this morning as the families moved on to the next congregation. We had an exciting two weeks, and have become close to our new friends.
Our guest family of 7 moved on to their own home the end of the first week. Halloween was celebrated last week, and some "Halloween elves" decorated the fellowship with countless Halloween decorations. Mary Ann turned off the lights so when the children arrived, they were awed by the spooky lights.
The Or Atid-Peace support network continues to grow. This hosting we enjoyed the help from many congrations including Memorial Congregational Church, St John Evangelical Lutheran Church, Temple Shir Tikva, First Parish, Congregation Beth El, and the Islamic Center. Two girl scout troops in Sudbury helped in preparing and serving meals.
One of our guests cooked a traditional Brazilian meal last night. Her two children were thrilled to taste their mom's cooking for the first time in two months. Thank you to the volunteers who helped make this possible for the family.
Somehow, each hosting is more rewarding than the last. Thank you for all your wonderful help and support which makes this program possible.
Kim Ho
Kim Canning
Cindy Fenichel